Security Gates in Oklahoma City, OK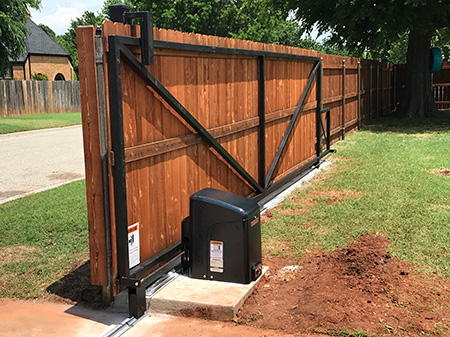 Controlled Access Automation LLC specializes in the sales, service and installation of automated gates and access control systems for residential and commercial customers. Our mission is your complete satisfaction with our products and services, and we'll even service our competitors' products in pursuit of your happiness!
Contact us today to get the peace of mind that comes with automated commercial gate systems and more.
Get the Automated Gates You Need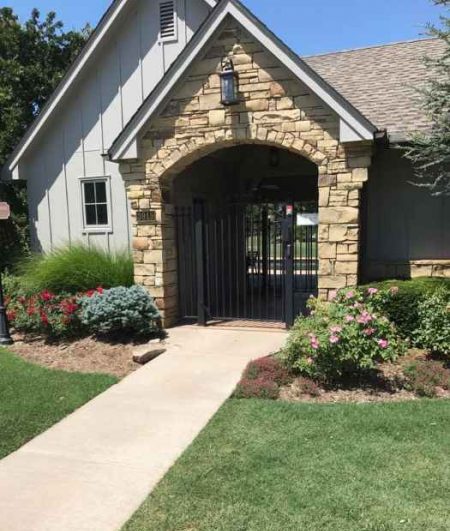 Protecting your property shouldn't be an inconvenience for the people who are authorized to access it each day. Automatic entry gates in Yukon, OK solve the problem of access control, keeping your property conveniently secure. Controlled Access Automation LLC believes in a tailored approach to access control and, thanks to our decades of experience with control systems, we're able to design, install and service security gates that are ideal for your property:
Drive gate systems
Pedestrian gate controls
Entry door control systems
Timed doors and gate open/unlock systems
Telephone systems
Card/code access systems
Radio frequency systems for gates
Timed card/code lockout systems for gates
Transaction monitoring for systems
PC-based, remote system programming
Whether you need a simple drive gate system for your residential driveway or a complex code lockout system for your commercial facilities, count on our automatic entry gates to make sure it answers your need for security, without compromising convenience.
At Controlled Access Automation LLC, we operate under the idea that customer satisfaction is the most important thing we can provide. This means not just servicing our own control systems and security gates in Yukon, Oklahoma City, Bethany, and Mustang, OK, but our competitors' as well! It doesn't matter what type of system you have in place, how complex it is, how old it is or what manufacturer designed it, we'll service it! We know that a working system is the difference between security and vulnerability, and we settle for nothing less than your security at all times.
Our systems are always installed with our customers in mind. Let us design your next gate to your specifications, to make sure it functions flawlessly.
We bring more than 40 years of experience to your access control project. Our extensive knowledge guarantees the best possible solution, every time.
We're fully licensed in the State of Oklahoma for Access Control (Lic. #1611). Get the peace of mind that comes from working with a professional!
Have a competitor product? No problem—we're happy to service it! We service any system because customer satisfaction is our top priority.
Our access systems are customized for residential and commercial applications, and we're happy to help you develop a custom solution.
Keep Your Property Safe
Our access systems keep unwanted persons out, while affording you the convenience of instant access for authorized personnel. Contact us today, tell us about your need for automatic entry gates and let us get to work providing you with solutions—whether we're designing something from the ground up or servicing an existing system. We offer the best in automated gates, access systems, sales, service and installation in Yukon, OK and:
Bethany, OK
Warr Acres, OK
Mustang, OK
El Reno, OK
The Village, OK
Canadian County, OK
Oklahoma County, OK
Logan County, OK
Yukon, OK
Del City, OK
Edmond, OK
Moore, OK
Midwest City, OK
Kingfisher County, OK
Blaine County, OK
Caddo County, OK
Norman, OK
Choctaw, OK
Guthrie, OK
Chickasha, OK
Shawnee, OK
Grady County, OK
McClain County, OK
Cleveland County, OK