Do you need gated access to your property or facilities, to ensure the safety and security of the premises? Controlled Access Automation LLC takes pride in designing and installing automated gates and gate systems in Yukon, Oklahoma City, Bethany, and Mustang, OK for residential and commercial properties.
We'll make sure only authorized personnel are getting through to your property and that your automated commercial gate systems are both convenient and protective. Our abilities include: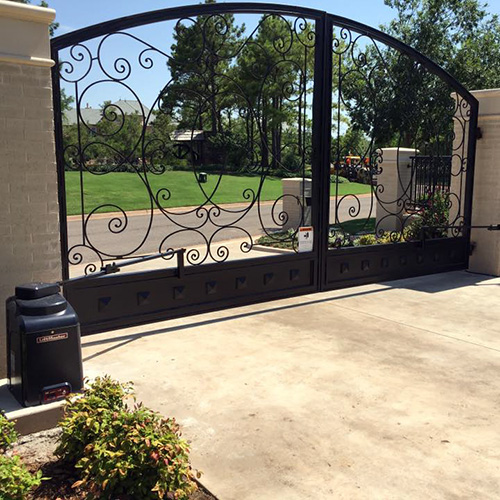 Sales
Are you looking for a stock gate and general access control system to protect your property? We can work with you to determine the right style of gate and caliber of control system, ensuring you get the solution you need at a price that's right for you.
Service
Have your automated residential gate systems stopped working? Are there issues that are impacting its convenience? Let us know what the problem is as soon as it arises and we'll quickly get to work resolving it. We even service competitor products to ensure you're getting the highest level of satisfaction possible!
Installation
Have a gating system that you like that needs to be installed and integrated with a custom system in Yukon, OK? We'll be glad to help! Our team has more than a decade of experience in customizing systems and will work swiftly to integrate everything into your system.
Design
If you're looking for a completely custom solution to automated residential gate systems, give us a call to discuss the potential for a custom-designed solution. We'll survey your site, understand your needs and get to work designing a system that exceeds your expectations.
At Controlled Access Automation LLC, customer satisfaction comes first. We make sure your automated commercial gate systems are functioning as you need it to at all times—whether we designed and installed it or you've had it for years prior. Contact us today at 405-641-8187 to discuss your needs and we'll make sure they're met.